CF-2 Indoor Air Quality Monitor, for HCHO AQI,TVOC,Temperature, and Humidity
customers are viewing this product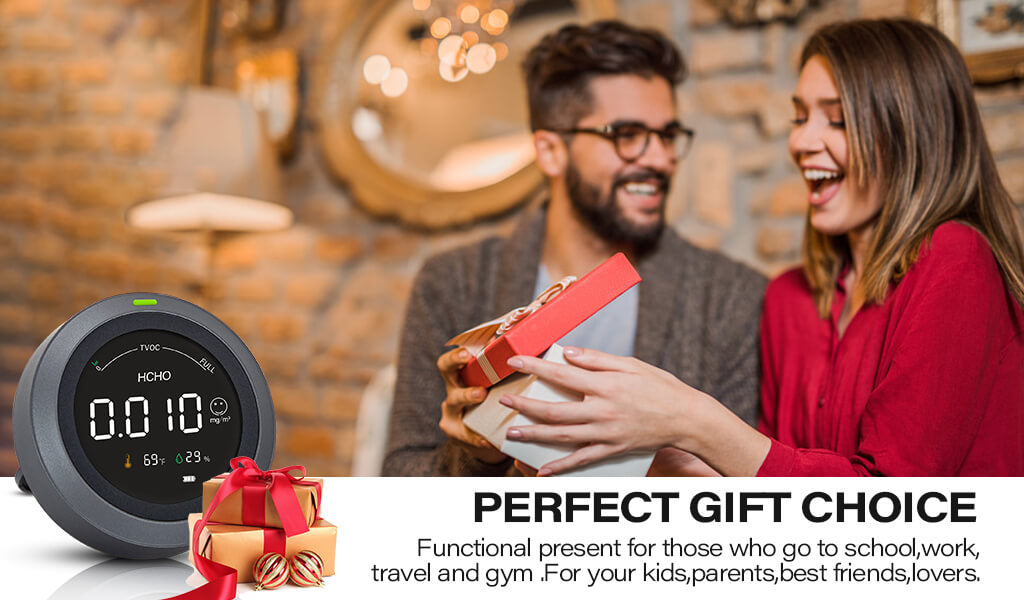 PTH-2 Indoor Air quality Monitor is a pocket size detector with high accuracy Electrochemical sensor, designed for HCHO/TVOC/AQI/Temperature/Humidity detecting and indicating. This 5 in 1 air quality monitor is perfectly for Home and work and almost all indoor scenarios like: Schools/Hospitals & Clinics/Hospitality/On-the go/Offices/Dental offices/Laboratories/Museums
Indoor Air Quality Monitor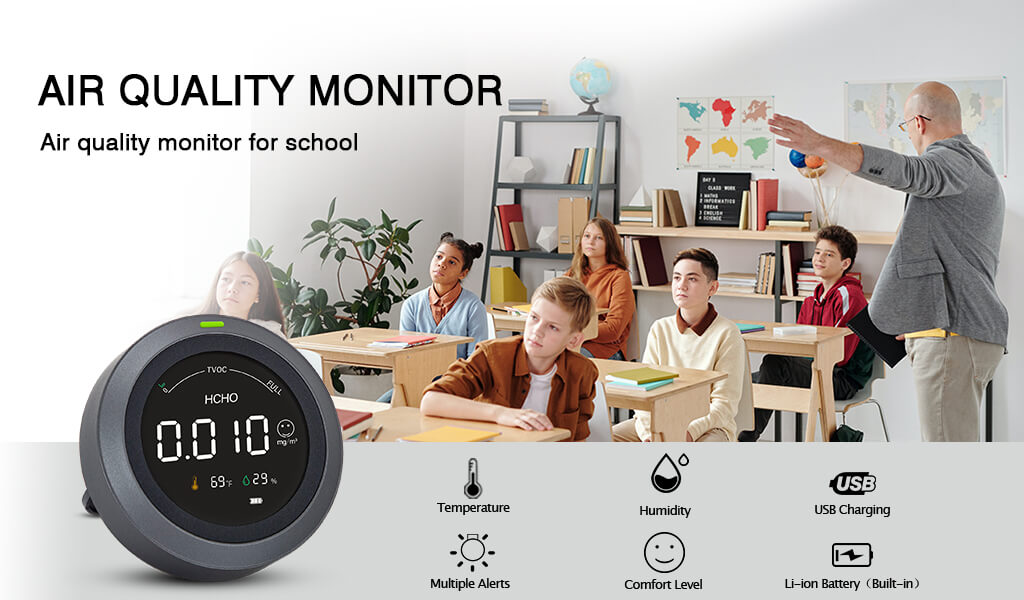 Key Features:
Advanced HCHO Sensor: CF-2 HCHO monitor adopts with UK Dart electrochemical Sensor sensor,which enable fast responsive to harmful resource and let you do the right further action like ventilate the air indoor, open the air purifier and so on.
High-Precision Detectingrange: Working Temp -10℃-40℃(±1℃):14°F-104°F(±33.8°F), Indicator lights, simulation bars and facial expressions indicate multiple air quality levels.
Test Air Quality Indispensable: CF-2 is a professional air quality monitornot only for formaldehyde, but also for TVOC, temperature,humidity measurement.
Easy to USE: Just two buttons for unit change/Statics check and backlight on and off.
Long Lasts: equipped with 2400mAh rechargeable battery, power supply by USB Charging.
Multiple Mounting Mode: support a variety of fixing methods, such as vehicle(optional vehicle bracket), table placement or rope suspension.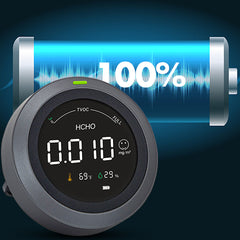 Large capacity battery
Indoor air quality monitor built with a 2400 mAh polymer lithium battery can be used continuously for 4-6 hours after full charging, which is a good solution for your testing needs in a different environment for a long time.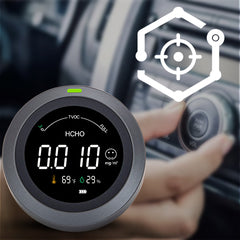 3-IN-1 Multi-function
Cubic Design
VA-LCD clear screen (3.14 inches)
Easy to get an overview of the readings of Temperature, Humidity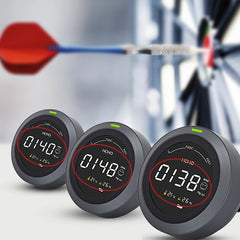 DART electrochemical selective sensor technology
The HCHO detector is designed with DART selective electrochemical sensor technology, combined with factory testing, calibration, and compliance, and will provide you with reliable measurement results.
Measuring Steps and Tips
Before the initial usage of the indoor air quality detector, please put it at ventilation area for 12 hours.
Long press A button to start the AQI monitor,the screen will display formaldehyde, temperature, humidity values and the simulation bar of TVOC.

To ensure the accuracy of the data, please do not touch the monitor with your hands during the measurement process.

Rest it for at least 10 minutes to obtain a stable measurement value.

Three emoji expression indicates the formaldehyde value exceeds the standard or not (Bad/Normal/Good).

Three color light also show the status of the air like above.
Know the Harm of Formaldehyde and TVOC
Formaldehyde levels in building environments are affected by a number of factors. These include the potency of formaldehyde-emitting products present, the ratio of the surface area of emitting materials to the volume of space, environmental factors, product age, interactions with other materials, and ventilation conditions. Formaldehyde emits from a variety of construction materials, furnishings, and consumer products. The three products that emit the highest concentrations are medium density fiberboard, hardwood plywood, and particleboard.

Formaldehyde has an irritating effect on the skin and mucous membranes, such as the throat, eyes, and nasal cavity, causing edema, inflammation, and ulceration in these areas, and eventually leading to serious diseases such as nasopharyngeal cancer. Skin that has been exposed to formaldehyde may be allergic. In severe cases, it may even cause hepatitis, pneumonia, and kidney damage. The harm to pregnant women of infants and young children is more serious, which can cause the fetus to stop growing and develop during pregnancy, and the heart and brain are not fully developed. In severe cases, it can lead to serious consequences such as fetal malformation and miscarriage. Formaldehyde exposure during pregnancy may increase the risk of spontaneous abortion. Thus it's so important to monitor the formaldehyde with a HCHO detector.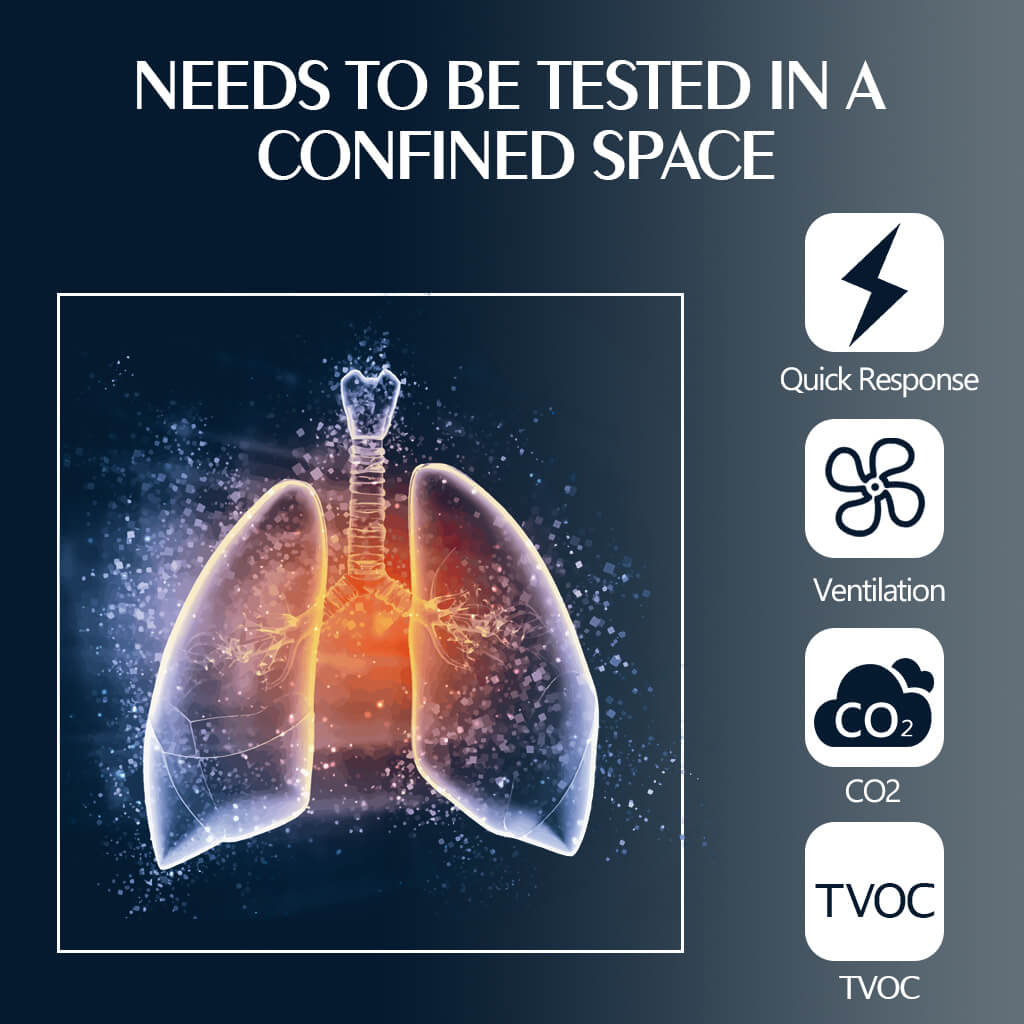 Know the Other Pollutants around you

PM2.5: Particulate matter at the size of 2.5 micrometers in diameter or smaller can only be seen with an electron microscope. These particles are so small that can easily travel into our lung system.
TVOC: TVOC is a grouping of a wide range of organic chemical compounds to simplify reporting when these are present in ambient air or emissions. Many substances, such as natural gas, could be classified as volatile organic compounds (VOCs)
AQI: For each pollutant, an AQI value of 100 generally corresponds to an ambient air concentration that equals the level of the short-term national ambient air quality standard for the protection of public health. AQI values at or below 100 are generally thought of as satisfactory. When AQI values are above 100, air quality is unhealthy: at first for certain sensitive groups of people, then for everyone as AQI values get higher.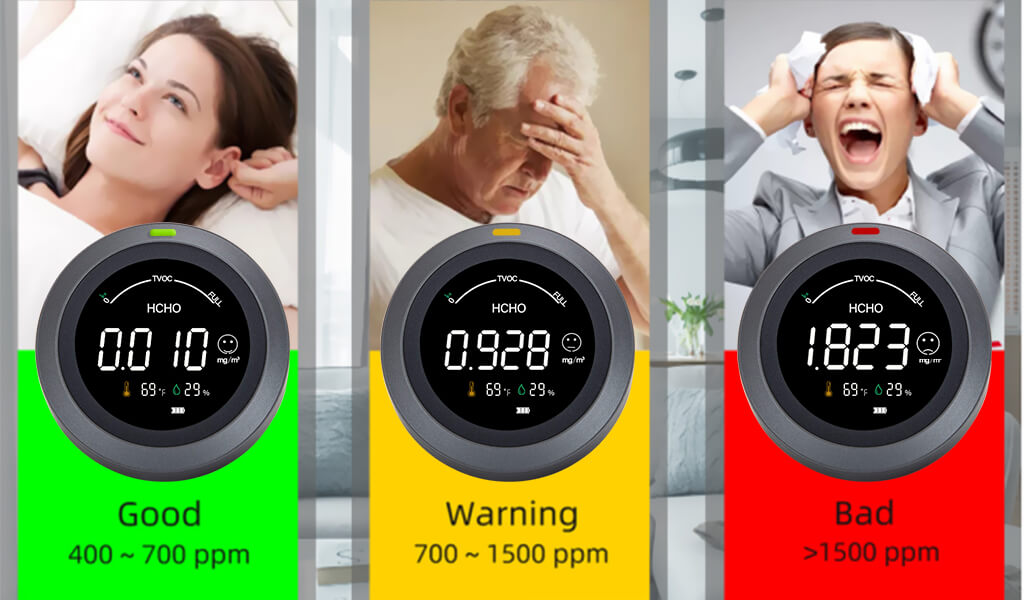 CO2: The normal content of CO2 is 0.04%. When the concentration of CO2 reaches 1%, people will feel stuffy, dizzy, and palpitations. When it reaches 4%~5%, people will feel wheezing, headache, and dizziness, and when it reaches 10%, It will cause serious disorders of human body functions, cause people to lose consciousness, become unconscious, stop breathing and die.
 
Carbon dioxide poisoning is a coma and cerebral hypoxia caused by people inhaling high concentrations of carbon dioxide. Generally, when the carbon dioxide content in the atmosphere exceeds 1%, people have mild poisoning reactions; when it exceeds 3%, breathing difficulties begin to occur; more than 6 %, it will be deeply poisoned and even die.
Specification:
| | |
| --- | --- |
| HCHO sensors | |
| Measuring range: | 0~2 mg/m³ |
| Resolution: | 0.001 mg/m³ |
| Measuring range(TVOC): | 0~5mg/m³ |
| Resolution(TVOC): | 0.01mg/m³ |
| Battery capacity: | 2400mAh |
| Battery life: | 6 hours on a single charge |
| Input: | DC 5V; 1A |
| Weight: |  200g |
|  Dimensions: |  83*83*32 mm |

Packing list:
CF-2 Air Quality DetectorX 1

18650 Rechargeable Battery(Built-in) X 1

USB Cable X 1

User Manual X 1
Model Selection Chart

| | | | | |
| --- | --- | --- | --- | --- |
|   | CF-2 | CF-5 | DM69 | CF-20 |
| PM2.5 | X | X | √ | √ |
| PM10 | X | X | √ | √ |
| HCHO | √ | X | √ | √ |
| TVOC | √ | X | √ | √ |
| AQI | X | X | √ | √ |
| CO2 | X | √ | √ | √ |
| Temperature& Humidity | √ | √ | √ | √ |
| Data Export | X | X | X | √ |
| Battery | 18650 lithium battery | 18650 lithium battery | 18650 lithium battery | 18650 lithium battery |
Blogs
What is HCHO and the Harm of HCHCO?
Why we need the air quality detector?
QA 
Q:
How can I do the calibration when the value is not accurate?
A:   every devices did pre-calibration before ex-factory, we suggest you leave the IAQ monitor for ventilation 6 hours to check the reading again. 
Q:  
What is the standard of the pollutant of HCHO?
A:  between 0 and 0.08 mg/m³, the formaldehyde value belongs to the safe range;
When the measured value is at 0.08 - 0.1 mg/m³, the formaldehyde value belongs to the warning range and needs close observation;
When the measured value exceeds 0.1 mg/m³. the formaldehyde value exceeds the standard and must be treated with formaldehyde carefully. 
Q:
How to get the most accurate readings
A:Check your monitor is calibrated before making HCHO measurements. Follow the manufacturer's instructions, including the appropriate warm-up time for the device to stabilize. 
Take multiple measurements in occupied areas to identify a suitable sampling location to give a representative measurement for the space. In larger spaces it is likely that more than one sampling location will be required 
Take measurements at key times throughout the working day and for a minimum of one full working day to ensure your readings represent normal use and occupancy 
Record HCHO readings, the type of ventilation you're using at the time and the date. These numbers will help you use the HCHO records to decide if an area is poorly ventilated 
CF-2 Indoor Air Quality Monitor, for HCHO AQI,TVOC,Temperature, and Humidity
CF-2 Indoor Air Quality Monitor, for HCHO AQI,TVOC,Temperature, and Humidity